Relax, Keep Cool or Kick It on a Khulna Private Tour
As our main title say's, you can Relax, Keep Cool or Kick It in Khulna. This Mesmerising Sightseers dream is an ancient yet modern city, with some of the most fantastic UNESCO listed World Heritage Sites, Khulna is one of Bangladesh more colourful cities.
Described as a modern state in an old land the glory of Bangladesh has had many stories written about its past. It is world famous for producing the finest muslin cloth fabrics the world has ever seen. Travellers become mesmerised by the stories of its past, and its trade and commerce are world renowned.
With some of the greatest mangrove forests of the continent, it is home to crocodiles and wildlife and also the elusive Royal Bengal Tiger. Only 400 are known to remain and are rarely seen.
After its independence, it has slowly clawed its way back up to some of its former glory and is now a metropolitan city of great wealth but also great poverty. Read More...
Find the Elusive Royal Bengal Tiger on a Guided Private Tours Khulna
Find the Elusive Royal Bengal Tiger on a Guided Khulna Tour. Arrange your sightseeing tours and trek through the mangrove forests looking for crocodiles and other wildlife exclusive to Bangladesh
Visit the home of the famous Nobel Prize-winning poet Rabindranath Tagore's Residence and see where he got his inspiration from while writing in his beautiful compound. The stunning fortress-like Temple of 60 domes is a must see and note there are actually 81 domes on the temple, count them if you dare.
Wander one of the many parks and green areas the city has to offer, relax and re-charge your batteries.
Also book a Chittagong, Private Tour See the Scenery and Stay for the People, it is the second largest city and port in South Asia. Chittagong City is classed as the go-to place to arrange your travel documents and permits to explore this diverse part of the world.
Top 10 Things to Do in Khulna
1
The most magnificent mosque in Khulna, the Shait Gumbad Tour certainly lives up to its reputation. Its name meaning Temple of 60 Domes is actually misleading as there are really 81. We were impressed by this fortress-like structure whose architectural influence is, without a doubt, Turkish in origin. Enclosed in a peaceful tree-filled compound Its walls are unusually thick, and its graceful arches in the main hall are quite spectacular.
2
On your Private Tour see the largest Mangrove forest in the world, the serene beauty of Sundarban in the district of Khulna will take your breath away. For wildlife lovers, this is a paradise of nature living hand in hand with modern urban life not far away in the city. Venture under the lush green canopies of gigantic trees or leisurely cruise the waterways to witness some of the sweet birds that make their home here enjoying the peace and tranquillity.
Shilaidaha Kuthibari-Rabindranath Tagores Residence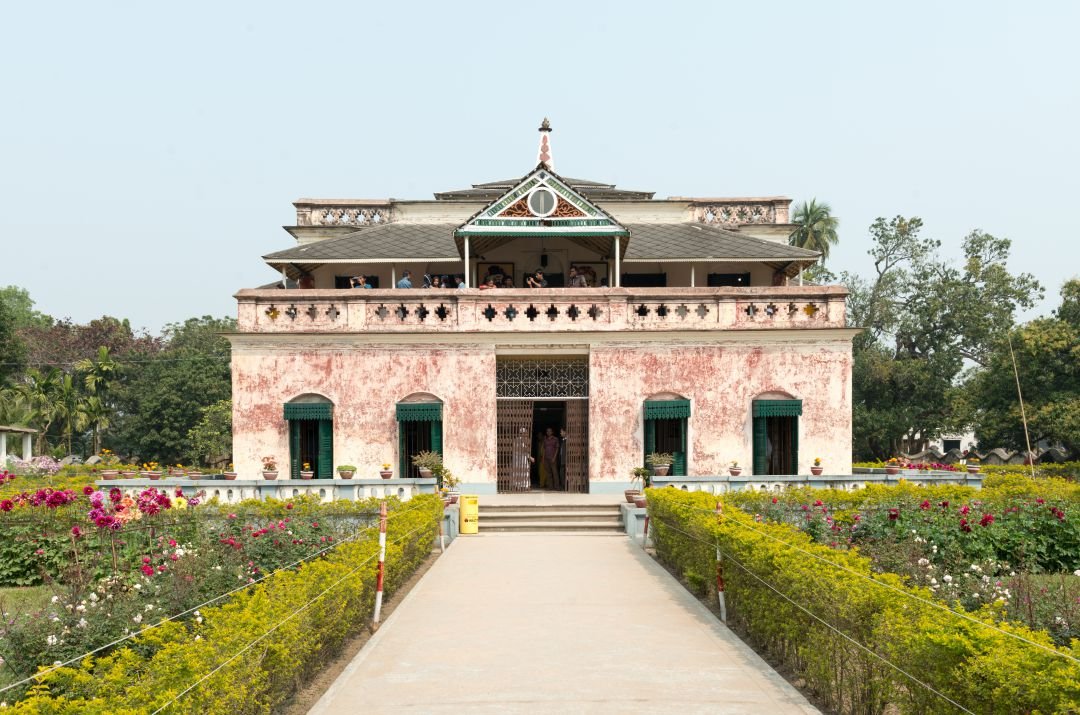 3
An occasional home of the world famous Nobel Prize winning writer Rabindranath Tagore this residence is where he penned some of his poems. This imposing country house and its dramatic gardens are now home to a museum displaying his possessions including his wardrobe, bed and his most prized possession his houseboat. Book a Private Tour in Khulna and attend the Five day festival held here each year to celebrate his birthday attended by many of his followers.
4
Spend a few hours and entertain the kids on a guided private tour at this zoo with it's great selection of well-kept animals in clean cages. We visited at feeding time and so got to see the animals up close and take some great photographs. The grounds were well kept and had some fantastic examples of trees and flowers native to Bangladesh. The aquarium was sparse, but it was still interesting to see the various sealife it had.
5
After a total re-vamp, this inner city park is now one of the finest in Khulna. Its small central lake is a picturesque focal point and is surrounded by tall trees full of birds and other wildlife. Sit reading on a bench or watch the world go by. Some energetic people might decide to be like the locals and take up jogging around the running road. At dusk, the park comes alive with millions of twinkling fairy lights.
6
A private tour out to Kuakata to witness the fabulous sunrise and sunset was a great idea and one we will remember for a long time to come. We arrived at this delightful sandy beach resort after an overnight journey. Free to explore the surrounding mangroves and forest we were able to see monkeys and hear birds overhead. Living up to its reputation both the sunrise and the sunset were breathtaking and the best we have ever seen.
7
By boat, you arrive at Karamjal tourist spot, the breeding centre for crocodiles and an excellent location for birdwatchers. A strictly guided private tour takes you deep into the shaded Sundarbans forest, through majestic ancient trees, on a journey to see the elusive Royal Bengal Tiger. If you are lucky, you will catch a glimpse of this rare creature in all its glory. We were unlucky although the day before one had been spotted.
World Heritage Mangrove Forest
8
Declared a UNESCO World Heritage Site these mangrove swamps also include the last remaining pieces of the mighty jungle. With one-third of the area covered by marshland, it is the prime spot for wildlife lovers and a heaven for birdwatchers. There are still 400 Royal Bengal Tigers registered to be living here although sitings of them are now rare. There are however plenty of crocodiles and snakes…yikes
9
Made from clay the traditional
Bangladesh
pottery is making its comeback. Not long ago this tradition was almost wiped out, but it is now enjoying a new lease of life. A private tour to this village will show you the tools of the trade still used today to make many beautiful decorative pieces found in homes all over the country. Have a go at creating your own masterpiece or just buy an original from the village shop.
10
This Ranger Station is in deep in the Sunderban forest, and it is also home to the deer breeding centre. We were advised to take a private tour with a guide and to stay overnight if possible in one of the many lodges. An abundance of wildlife exists here, and it is fun to see how many species you can identify and photograph during your stay. At night hear the call of the wild, and this makes a truly unique experience.
Travel Tips for Khulna
Best Time To Visit Khulna
Most of the cities here hold festivals and parades in the spring time, and these will bring in a massive influx of visitors, so book early to avoid disappointment. These really are not to be missed and are an unforgettable experience with their colourful and decorated buildings and parades of traditional costumes and dances. Monsoon season can make certain attractions inaccessible. you local tour company can advise on best dates to travel.
Typical Costs in Khulna
Daily costs of holidaying here can vary greatly according to your requirements from budget accommodation at around 1,500 TK including your accommodation, a meal of local food and maybe a travel ticket. For a more luxurious stay a room in the best hotel, meal and hire car can come in at 4,000 TK. Credit cards are widely accepted but always be prepared with some take and even some USD in case of emergencies. Prebook tours before arrival and save money!
Know Before Visiting Khulna
Travel is easy and cheap book Private Tours of Khulna beforehand, many forms of transport including the train and in some areas even a boat. Try at least one rickshaw journey just to say been there done that. Sanitary conditions are particularly hit and miss and tap water should be avoided. Before leaving check for vaccinations needed with your Doctor especially Malaria and Dengue Fever. Don't forget to get your visa before your journey.
Weather in Khulna
A land of 3 seasons wet, cooler and dry, so it is possible to visit at any time of year although monsoon season will make certain areas impossible to visit due to the heavy rainfall. There is also a hurricane season in May and June as well as October and November. The cooler season has a pleasant average temperature of 21ºand still has mainly sunny days. The dry season is a more humid 30º and can become humid.
Let the activities begin!